Pascal Robert a regular contributor to the online publication Black Agenda Report and is the current co-host of the THIS IS REVOLUTION PODCAST. He is an OUR COMMON GROUND Voice and INterLOCUTOR
04 Aug 2021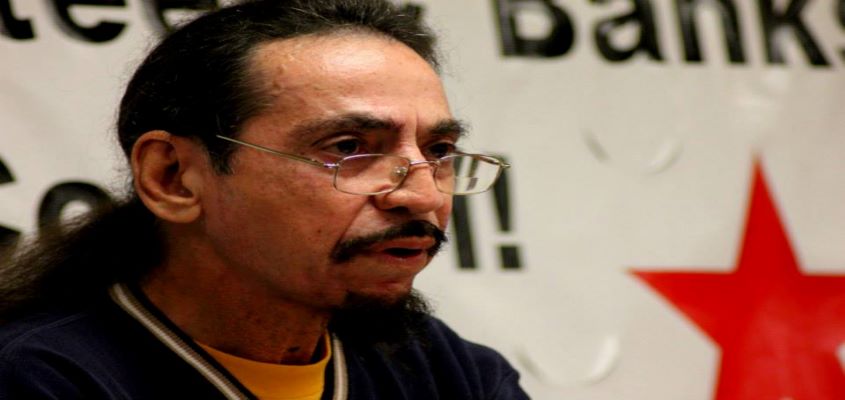 Glen Ford and the Need for Black Radical Analysis
Black radical analysis was the foundation of Ford's work
Since the assassination of Martin Luther King, Jr., the fifty-year counter-revolution against the transformative politics that had reached their apex in the 1960s brought forth a constriction of the American political imagination. When Richard Nixon took control of the executive branch, he used appeals to Black capitalism to tamper support for radicalism among the emerging Black middle class. Thus, just as the hammer of Jim Crow segregation was lifted, the class schisms that would shape Black political life became sharpened. In the post-civil rights era, the Black working class and poor, whose labor as sharecroppers and domestic workers during Jim Crow became obsolete, were forced to confront a new set of social and economic maladies: deindustrialization, urban blight, mass incarceration, and heroine epidemics. Yet at the same time, the nascent Black middle class who benefitted from minority set aside programs, affirmative action, and foundation funded racial uplift programs emerged as the gatekeepers of Black politics. The consequence of Black politics becoming a predominately middle-class politics of elite management meant that the clarion call of the Black radicals, who from the earliest days of the American Republic fought against political lethargy, complacency, and collaboration with forces of Black oppression, was largely lost. Glen Ford, founding editor of Black Agenda Report, was one of the few exceptions to that rule.
Glen Ford was born in 1949 to two parents who had met as radicals in the post WWII era. Thus, he was exposed at an early age to people that did not simply fold under the weight of the status quo. Glen's father was a storied Black media personality in Georgia, while his mother was a dedicated activist in all aspects of Black politics in New Jersey. Following their separation, Glen spent time with both parents mastering the respective skills of each. Indeed, Glen Ford soon became a noted radio and television personality in his own right, joining the Black Panther Party in the 1960s and subsequently living his life as an activist journalist.
The details of Glen Ford's life are easily ascertained, but even accessing the facts of his many accomplishments distracts one from understanding what made Glen Ford so important to American society. Glen Ford was a journalist and thinker who was rooted in the tradition of Black radical analysis. Black radical analysis is the ability to look at the overall social and political reality of Black people. It is premised on understanding the forces of racial and economic antagonism that hinder that constituency's emancipation. However, this is coupled with keen awareness of internal mechanisms, forces, structures, and individuals within the Black constituency which collaborate with the social, political, and economic establishment resulting in further subjugation of the larger masses of Black people. Such a realization may seem simple for many to fathom. Yet, the over-arching social consensus views Black people as a singular underclass without internal conflict or class stratification. Therefore, those who dare expose how internal social and ideological schisms among Black people facilitate ruling class subterfuge are not merely anomalous, but clearly exceptional. Some may ask, "What is particularly Black about this form of analysis?" I would respond that awareness of the social mechanisms within the Black constituency requires not only proximity to the constituency, but the capacity to have such analysis taken seriously by larger Black society without breeding the suspicion of it being created by racial antagonists. Does anyone believe that Black America would take kindly to the exposure of the limitations of the Black political class if they were mostly leveled by voices outside that community? Anyone who assumes as much does not realize how much ire and push back those who engage in Black radical analysis receive from those within the "community" who are blinded by the charade of racial kinship politics into believing most Black political actors work under unitary Black interest.
Glen Ford, starting at Black Commentator and eventually through Black Agenda Report, created a lexicon and analysis of the Black political class, the civil rights establishment, the Foundation/Philanthropy world, and the left flank of capital. He introduced a whole generation of online readers unfamiliar with such strident critiques to a deeper understanding of the type of neoliberal Black politics that became more common in the Obama age, while even Black activists and academics incorporated such analysis into their work. Before the regular publications of Glen Ford, Bruce Dixon, and Margaret Kimberly one could only find such Black radical analysis in the books of a certain cadre of Black intellectuals and Black political scholars. Otherwise, one had to have personal access to the few Black radicals who kept such analysis alive during the fifty-year counter-revolution. What Glen Ford was able to do was take such trenchant analysis and popularize it. In doing so, consumers of online news media would begin to understand what was meant by terminology such as the "Black political class", more notoriously, the "Black mis-leadership class." At the same time, he was able to communicate the reality of the more cannibalistic neoliberal shift in American capitalism that took place during the post-civil rights era fifty-year counter-revolution. In short, he helped readers understand the disorienting waves of hyper privatization, de-unionization, gentrification, and public-school evisceration while such processes inflicted incalculable pain upon the laboring classes in general, and Black and Brown communities in particular.
In the area of foreign policy, Glen Ford and Black Agenda Report stood alone among online publications in keeping the spirit of Black internationalism and Pan-Africanism that was once a common fixture of Black thought alive. A nuanced analysis of almost every political and economic crisis that affected the global Black diaspora was a regular part of Glen Ford and Black Agenda Report's weekly repertoire. Furthermore, challenging the exploits of American Empire in the Muslim word, Global South, and even Europe, was also well within the purview of Glen Ford and the Black Agenda Report crew. This level of global and domestic coverage made Glen Ford one of the most important journalists in an age when Black politics was sadly embracing the neoliberal turn in both economics and policy.
However, without a doubt the most important contribution of Glen Ford and Black Agenda Report was to strike a massive journalistic blow against the curated Black consensus that supported the trojan horse, Robert Rubin hatched presidency of Barack Obama. My personal affiliation with Black Agenda Report developed from watching Glen Ford eloquently explain how the Wall Street Manchurian Candidate Barack Obama represented a threat to Black politics and Black people unseen in the modern history of the republic. Ford and his coterie were viciously attacked for exposing what only became obvious after almost fifty percent of Black wealth evaporated under the stewardship of the Obama presidency without recourse.
Therefore, not only did Glen Ford provide a critical service to Black America as a journalist, but he also provided a massive service to the burgeoning new left that developed in the wake of Occupy Wall Street and the Bernie Sander presidential campaign by having a journalistic record that challenged both the neoliberal Wall Street pawn Obama, and the whole corporate bought and paid for Democratic party establishment. The importance of Glen Ford to contemporary American journalism and political commentary cannot be overstated. In the wake of his passing, I can only consider myself fortunate to have personally experienced his wisdom and political education through regular phone conversations when I submitted articles. This, combined with the close friendship I developed with Bruce Dixon, made the work of Glen Ford and Black Agenda Report not only politically significant, but personally crucial to my development over more than ten years as a writer and political commentator. It is largely because of Glen Ford, Bruce Dixon, Margaret Kimberley and Black Agenda Report that I have the foundation needed to engage in my own media project with Jason Myles on our show "THIS IS REVOLUTION PODCAST." It actually gives me a sense of honor to think that in some way, the work of Glen Ford and Bruce Dixon, who have both transitioned, can live on in the political commentary I bring forth in my work. In this way I feel personally enriched by both these men who dedicated their lives to the betterment of humanity. I salute their memories and hope to only improve upon the standard they have set. They embodied some of the best of what America has to offer in terms of political commentary and thought. Let us all recognize the importance of Black radical analysis in light of their passing.
Pascal Robert is an essayist and political commentator whose work covers Black politics, global affairs, and Haitian politics. His work has appeared in the Washington Spectator, Black Commentator, Alternet, AllHipHop.com, and The Huffington Post. He is a regular contributor to the online publication Black Agenda Report and is the current co-host of the THIS IS REVOLUTION PODCAST, which is live streamed via Youtube and relevant social media on Tuesdays and Thursdays at 9pm eastern standard time and Saturday's at Noon. Pascal Robert is a graduate of Hofstra University and Boston University School of Law.