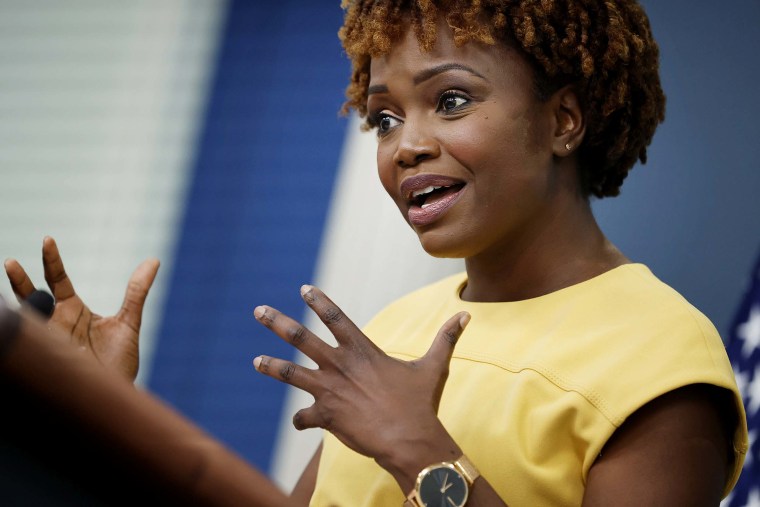 White House Press Secretary Karine Jean-Pierre at a daily news conference in the Brady Press Briefing Room at the White House on July 11 in Washington, DC.Chip Somodevilla / Getty Images
Democrats respond to GOP calls for debt ceiling negotiations: No
"In exchange for not crashing the United States economy, you get nothing," one Democratic senator said. "You don't get a cookie."

Jan. 16, 2023, 8:00 AM EST
By Steve Benen
Late last week, Treasury Secretary Janet Yellen sent an important letter to House Speaker Kevin McCarthy. The cabinet secretary explained that the United States would hit the debt ceiling this Thursday, Jan. 19, and it was time for Congress to begin taking necessary steps to prevent default.
It's worth emphasizing that hitting the debt ceiling this week does not mean that default is just a few days away. Rather, the Treasury Department will now begin a series of moves — described as taking "certain extraordinary measures" — to prevent a crisis. But those temporary measures will be exhausted by early June. Before that deadline, lawmakers will have to agree to allow the government to pay its own bills.
"Failure to meet the government's obligations would cause irreparable harm to the U.S. economy, the livelihoods of all Americans, and global financial stability," Yellen said, accurately describing reality. She added that even threatening default has "caused real harms, including the only credit rating downgrade in the history of our nation in 2011."
A day earlier, the new House speaker told reporters that, as far as he's concerned, there's no need to wait until the last minute: President Joe Biden, McCarthy said, should begin the process now of negotiating with GOP leaders and making them happy so as to avoid a default.
Democrats are not just rejecting Republicans' demands, the party that controls the White House and the Senate are also explicitly rejecting the very idea of negotiations. The Washington Post reported: