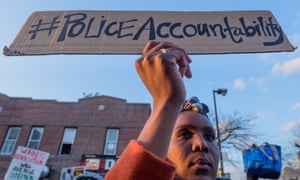 " . . . This is not only a British phenomenon. In the US, black people are more likely to be arrested for drugs offences even though they are not more likely to use or sell drugs, and as a result make up a disproportionate amount of the prison population. They also have a higher chance of getting shot by the police than white or Hispanic people. In today's Brazil, black people are still treated as second-class citizens; while in India, students of African origin are persecuted. In South Africa, a majority black country, 72% of the country's private farmland is owned by white people, who make up 9% of the population. During the apartheid era there was a clear racial hierarchy: whites at the top, Indians and "coloureds" in the middle, and black people at the bottom.
Historically, though slavery covered a range of civilisations, countries and races, for the black race its legacy lives on. From the 16th to the 19th century, around 12 million Africans were transported across the Atlantic Ocean to the Americas by European slave traders. Millions more were born into slavery and spent their whole lives enslaved. And after slavery ended in the US, African Americans were subjected to segregation laws, the denial of civil rights and lynching.
And between AD 650 and the 1800s, almost 10 million Africans were sold by Arab slave traders to Arabia and the Indian subcontinent. In fact the Arabic word abeed, which means "slave", is still used to describe black people in countries from Algeria to Yemen.
In her book White Fragility, Robin DiAngelo notes that black people are the "ultimate racial other". In the US, they are called "nigger", in Brazil they are termed macaco; in South Africa, they are nicknamed kaffir; in India, bandar; in China hak gwai . . ."
Source: Racism harms black people most. It's time to recognise 'anti-blackness' | Ahmed Olayinka Sule | Opinion | The Guardian