See on Scoop.it – OUR COMMON GROUND Informed Truth and Resistance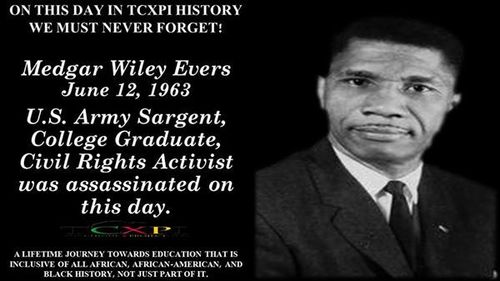 From http://thewright.org
OUR COMMON GROUND Omnibus's insight:
Remembering Medgar Wiley Evers, Civil Rights Activist, who was assassinated June 12, 1963. Evers was born July 2, 1925 in Decatur, Mississippi.
In 1943, he was inducted into the army where he fought in France during World War II and was honorably discharged in 1945 as a sergeant. Evers earned his Bachelor of Arts degree in business administration from Alcorn College in 1952. Soon after, he moved to Mound Bayou, Mississippi and became involved with the Regional Council of Negro Leadership. In 1954, Evers was appointed Mississippi's first field secretary for the NAACP. Evers was involved in a boycott campaign against white merchants and was instrumental in desegregating the University of Mississippi. A couple of weeks before his death, a Molotov cocktail was thrown into the carport of his home and five days before his death he was nearly run down by a car as he emerged from the Jackson, Mississippi NAACP office.
Mourned nationally, Evers was buried in Arlington National Cemetery with full military honors. Later that year, Evers was posthumously awarded the NAACP Spingarn Medal. In 1964, Byron De La Beckwith was arrested and twice tried for Evers' murder. In both trials, all-white juries deadlocked on his guilt.
Finally, in 1994 De La Beckwith was convicted of the murder. In 1969, Medgar Evers College was established as part of the City University of New York. In 1983, a made-for-television movie, "For Us the Living: The Medgar Evers Story," was aired on PBS. In 1992, the city of Jackson, Mississippi erected a statue in honor of Evers and in 2004 they changed the name of their airport to Jackson-Evers International Airport. The USNS Medgar Evers supply ship was launched by the United States Navy in 2011. "The Autobiography of Medgar Evers: A Hero's Life and Legacy Revealed through His Writings, Letters, and Speeches" was published in 2005.