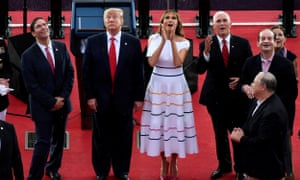 "Draw up a checklist of the semiotics of dictatorship and Trump ticks every one. He muses out loud about being president for life, saying it would be "great". He's indicated often that he would not accept the outcome of an election he lost. He's threatened to jail his political opponents.
He has the despot's attitude to the truth – lying routinely, even about trivial matters, partly to demonstrate power. So great is his sway over his devotees, he can make them believe even what is provably false.And he has the despot's contempt for a free press, forever railing against the "fake news" media and all but abolishing the White House daily briefing, which at least aimed to hold successive administrations to account.
Note his abuse of power to pursue vendettas against the companies that own media organisations that displease him: seeking to raise postal charges on Amazon, as retaliation against the Washington Post, owned by Amazon's Jeff Bezos; and moving to block the AT&T-Time Warner merger to hurt CNN. Trump in North Korea: history as farce first time round Michael H Fuchs Read more.
The most chilling moment of his encounter with Putin last weekend came when the two men bonded over their shared loathing of journalists: "Get rid of them," Trump said to his Kremlin counterpart, perhaps envious of the toll of 26 murdered journalists notched up in Russia during the Putin years."
Source: Donald Trump wants to be a dictator. It's not enough just to laugh at him | Jonathan Freedland | Opinion | The Guardian