Private federal prisons more dangerous, damning DoJ investigation reveals
'Low risk' inmates at contract prisons were nine times more likely to be placed on lockdown and put in solitary confinement than others in the federal system
A guard escorts an immigrant detainee from his 'segregation cell' back into the general population at the Adelanto detention facility in California.
A guard escorts an immigrant detainee from his 'segregation cell' back into the general population at the Adelanto detention facility in California.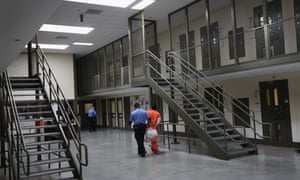 Photograph: John Moore/Getty
Oliver Laughland in New York  @oliverlaughland
Friday 12 August 2016 08.46 EDT Last modified on Friday 12 August 2016 09.17 EDT
Privately operated government prisons, which mostly detain migrants convicted of immigration offenses, are drastically more unsafe and punitive than other prisons in the federal system, a stinging investigation by the US Department of Justice's inspector general has found.
Inmates at these 14 contract prisons, the only centers in the federal prison system that are privately operated, were nine times more likely to be placed on lockdown than inmates at other federal prisons and were frequently subjected to arbitrary solitary confinement. In two of the three contract prisons investigators routinely visited, new inmates were automatically placed in solitary confinement as a way of combating overcrowding, rather than for disciplinary issues.
The review also found that contract prison inmates were more likely to complain about medical care, treatment by prison staff and about the quality of food.
Contract prisons almost exclusively incarcerate low-risk inmates convicted of immigration offenses. These facilities house around 22,000 individuals, mostly deemed "low risk", at an annual cost of $600m. They are operated by three private companies: Geo Group, Corrections Corporation of America (CCA), and Management and Training Corporation (MTC).
Investigators determined that these facilities were also more dangerous than others in the federal system. For example, the report found that inmate on inmate assaults were 28% higher in contract prisons, and confiscation of contraband mobile phones occurred eight times more.
Prosecutions of illegal entry a driving force in mass incarceration in US – report
Read more
At the Eden detention center in Texas, operated by CCA and one of the three institutions routinely visited by investigators, the inspector general found that staff failed to discipline inmates in over 50% of disciplinary incidents.
"This is the latest in a whole series of reports and investigations that have found very serious issues with Bureau of Prisons shadow systems of private prisons," said Carl Takei, a staff attorney with the ACLU's national private prison project and one of the authors of the 2014 report Warehoused and Forgotten: Immigrants Trapped In Our Shadow Private Prison System, which investigated contract prisons in Texas.
"Federal officials should be reconsidering their alliance on private prisons and developing plans to begin cancelling these contracts, rather than continuing this experiment."
Among the most stark of the ACLU's 2014 findings was the severe medical understaffing and "extreme cost cutting" that limited inmates access to healthcare.
Elements of these findings are replicated in the inspector general's report, which identified serious flaws in the oversight of medical care in a number of contract prisons.
"In one instance," the report documents, "when an inmate had trouble breathing, the contract prison medical staff told him to place a sick call, which would put him on a list of inmates waiting to be seen by medical personnel instead of being treated immediately.
"However, after he died, the mortality reviews showing this deficiency gave the onsite monitors no guidance on what steps to take to require corrective action. As a result, contractor deficiencies went uncorrected and corrective actions were delayed."
The inspector general recommends that the US justice department should convene a "working group" to probe the causes of the disparity in safety standards between contract prisons and publicly operated facilities, and states that federal government should strengthen oversight provisions across the board.
Source: Private federal prisons more dangerous, damning DoJ investigation reveals | US news | The Guardian