See on Scoop.it – OUR COMMON GROUND Guest Profiles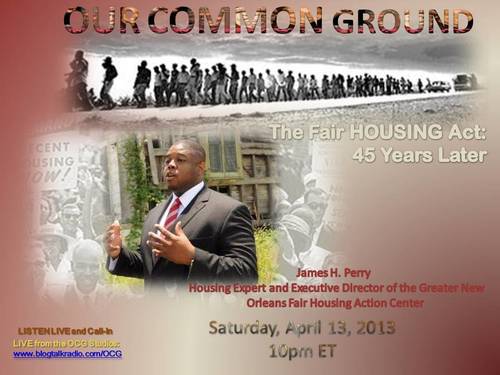 Learn more about James Perry
and the
Greater New Orleans Fair Housing Action Center (GNOFHAC)
http://www.gnofairhousing.org/
OUR COMMON GROUND Omnibus's insight:
OUR COMMON GROUND Voice James Perry is currently the Executive Director of the Greater New Orleans Fair Housing Action Center (GNOFHAC), a private, non-profit organization created to promote equal housing opportunity. Under James' leadership and management, GNOFHAC has tripled in size and helped thousands of residents.
In all his previous positions, James achieved significant results. His organizations have won all of their civil rights lawsuits filed on behalf people targeted by unfair practices or discrimination based on race, income, disability, mental illness, or against people with HIV/AIDS.
One of James' major initiatives has been to fight in New Orleans and in Washington DC for fairer payouts by the Road Home Program. Recently, on behalf of residents displaced by Hurricane Katrina, James led his organization's successful lawsuit against St. Bernard Parish, which passed an illegal ordinance that resulted in racial discrimination.
He was a candidate for Mayor of New Orleans and we hope he will run again.