See on Scoop.it – OUR COMMON GROUND News Board •● ☥●• The Third Eye Parenthesis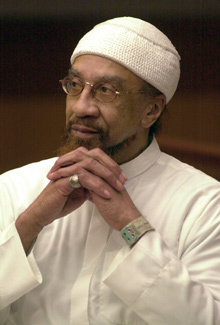 "Imam Jamil has been requesting to see a physician since his wife and son's last visit, but that request has been ignored. His breathing is now affected and he feels toxic fluid has entered his chest area as well. His legal team is now very concerned about his health yet overwhelmed with the federal habeas," the Peace and Justice Foundation added.
OUR COMMON GROUND Omnibus's insight:
During the 1960s and 1970s one of the strongest voices for Black liberation and a new just world order was H. Rap Brown of the Black Panther Party and Student Non-Violent Coordinating Committee.
He changed his name to Jamil-Al Amin and went to work building his community and reforming the neighborhood.
He is being subjected to the absence of critical medical care.
"Imam Jamil-Al-Amin is a Political Prisoner who by all International and Human Rights Standards and by all standards of decency and common sense should not be housed and treated in the manner in which he is presently housed and treated,"
See on www.finalcall.com