See on Scoop.it – OUR COMMON GROUND Informed Truth and Resistance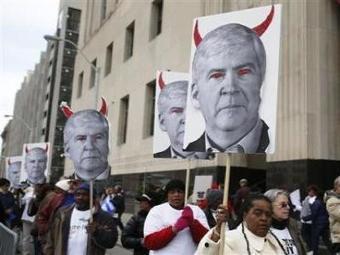 News, analysis and commentary from the black left.
OUR COMMON GROUND Omnibus's insight:
"The same bell is tolling for every urban center in the land."
Detroit's dissolution also sounds the death knell for a generation's dreams of authentic "Black Power" through purely electoral means in collaboration with corporate "renaissance" schemes. The Black masses have never been envisioned as part of any "renewal" of the cities under corporate auspices. Rather, investment is contingent on Black disempowerment and removal – the corporate axiom from which the Emergency Manager regime logically flows. Barack Obama, as loyal (and lawyerly) a servant of the banks as Orr, accepts the validity of the premise, which is why he raises no principled objection to Detroit's disenfranchisement, either in its particulars or as a model for urban America.
See on www.blackagendareport.com