See on Scoop.it – OUR COMMON GROUND Guest Profiles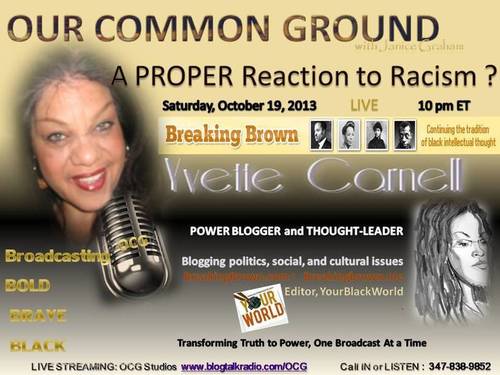 Yvette Carnell, Breaking Brown, Your Black World and KultureKritic
OUR COMMON GROUND Omnibus's insight:
OUR COMMON GROUND Voice Yvette Carnell, web publisher is a current events commentator and analyst writes mostly about politics, social, and cultural issues for my personal blog, BreakingBrown.com as well as BreakingBrown.tv and Breakingbrown.me. She is also an editor for YourBlackWorld and a managing contributor on KuluteKritic.
Before embarking on a career as a writer, she served as a Congressional aide, first to Senator Barbara Boxer (D-CA), and later to former Congressman Marion Berry (D-AR). In her role as a legislative staffer, she prepared briefings, staffed Congressional hearings, represented Members with their constituents, and performed other support duties .
Her articles have been featured in the Huffington Post and YourBlackWorld. I have been quoted by national news outlets including, but not limited to; The Nation, The Guardian, Politico and NPR.
See on www.facebook.com