See on Scoop.it – OUR COMMON GROUND Guest Profiles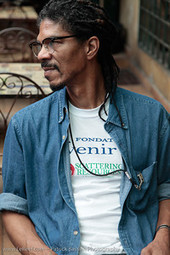 Kevin Alexander Gray Cultural name – Khalid Aikiiki Gamba "Eternal friend & warrior" Political-Cultural writer, activist & organizer ~ Harriet Tubman Freedom House Project Hear me Sunday …
OUR COMMON GROUND Omnibus's insight:
OUR COMMON GROUND voice, Kevin Alexander Gray is currently organizing the Harriet Tubman Freedom House Project which focuses on community based political and cultural education. Organizer — National Mobilization Committee Against the Drug War. Former managing & contributing editor of Black News inColumbia. Now serves as contributing writer to other minority newspapers in South Carolina. He served as a national board member of the American Civil Liberties Union for 4 years & is a past eight-term president of the South Carolina affiliate of the ACLU. Advisory board member of DRC Net (Drug Policy Reform Coalition).
In 1997, Gray was an organizer for the Rainbow/PUSH Coalition's anti-Proposition 209 marches in San Francisco & Sacramento, California.
South Carolina coordinator for the 1988 presidential campaign of Jesse Jackson & 1992 southern political director for the presidential campaign of Iowa Senator Tom Harkin. 2002 SC United Citizens' Party & Green Party Gubernatorial candidate.
Founding member of the National Rainbow Coalition in 1986. Former co-chair of the Southern Rainbow Education Project — a coalition of southern activists. Former contributing editor – Independent Political Action Bulletin.