See on Scoop.it – OUR COMMON GROUND News Board •● ☥●• The Third Eye Parenthesis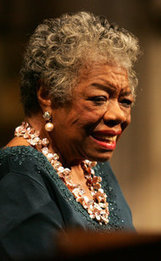 "Last night, I heard you in the stars. You whispered clearly of the rock, the river and the rustling trees. That is when the moon sighed and turned golden. FAREWELL to the lyrical magician, now a m…
OUR COMMON GROUND Omnibus's insight:
We need never say goodbye, only "good morning".
She defied labels. She was a walking encyclopedia of careers and passions. She wrote 36 books. She was an actress, director, playwright, composer, singer and dancer. She once worked as a madam in a brothel and as the first female and first black streetcar conductor in San Francisco.
The Maya Angelou Victory Service
A private service will be held at Wake Forest University, Wait Chapel on Saturday, June 7.
The service will be live streamed for the public